Ages:
All The Family
Under 5s
School Age
Adults
Venue:
Indoor
Cost:
Low
Description
Go Bananas is an all weather indoor Play Centre offering Stroud a fun and unique party venue for over 10 years. There is something for the whole family, from the little monkeys to the fully grown orangutans!
For the little Monkeys
Whiz your way down the wavy Astra slide, swoosh down the half pipe into the ball pool pit, dare to cross the wobbly bridge and jump the star burst clouds…. However if free play isn't enough for you why not try some of the exciting group offerings.
For the Adults
While the kids have fun, the adults can enjoy the lovely atmosphere of the cafe where there is a selection of drinks and a delicious range of home cooked food.
Opening times: Everyday 9am - 6pm
Private hire available: 6.30pm - 8.30pm
Admission Prices:
Non Term time and Weekends:
1 - 4 Year olds: £5:30
5 - 16 Years: £6:50
6 - 12 Months: £1
Adults Admission: £1
---
Monday to Friday 9am-3pm (term time only)
Age 1 - 4 Each Child: £3.65 includes biscuit and a cup of squash for each child
6 - 12 months £1
Adults £1
---
Parties:
Weekends and School Holidays: £10.95
Weekday Parties: £9.95 (Term time only)
1.5 hour play
1.5 hour party + food
(Hot or cold menu/themed invitations)
All our parties have a dedicated host!
---
Exclusive Hire:
Whole Venue: £250
Whole venue + Disco: £275
Whole venue + Disco + Lasertag: £300
---
Offers:
Pay & Play Laser Tag:
Enjoy a game of laser tag in the soft play
Available on Wednesday evenings (MUST PRE BOOK)
Suitable for children aged 6+ and adults
Maximum 10 players – players may be joined with others unless all spaces are filled
Each game lasts 15 minutes
Price: 1 Game £5 / 2 Games £9 / 3 Games £12 / 4 Games £14
Game start times: 6:30pm - 6:45pm / 6:50pm - 7:05pm / 7:10 - 7:25pm / 7:30pm - 7:45pm / 7:50pm - 8:05pm / 8:10pm - 8:25pm
Call 01453 769120 to book your games!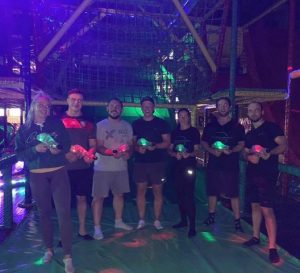 Open hours
| | | |
| --- | --- | --- |
| Monday | 9am | 6pm |
| Tuesday | 9am | 6pm |
| Wednesday | 9am | 6pm |
| Thursday | 9am | 6pm |
| Friday | 9am | 6pm |
| Saturday | 9am | 6pm |
| Sunday | 9am | 6pm |